JC Report is a bimonthly email magazine providing an insider's view on fashion trends emerging around the world, in the current issue writer Alex Butt discovers that British designers are finding more fans outside of the UK than in it. Read the complete article "Britishness Global"
"Though Mulberry is as big in the UK as in the rest of the world, many British brands find that their 'Britishness' has a greater resonance abroad than at home. Japan and China are a case in point, as many UK-brand labels enjoy considerable success there...On the fashion front, this west/east exchange shows renewed energy; Dan McMillan's menswear label Zoltar the Magnificent, for instance, sells in 8 stores in Japan and Hong Kong, as opposed to 2 in London...Quirky British designer Margaret Howell's modest success in England is dwarfed by her freestanding stores in Japan.
Daks is similarly enjoying a renaissance away from the UK. The brand launched its first store in India, and has enjoyed considerable success there...Whereas tradition can sometimes make British labels seem staid in their home country, many non-Brits find the sense of history attached to UK brands intriguing...and it wouldn't be complete without Burberry...
Why are British labels more popular than ever? Well, maybe it has something to do with that old adage: you can only break the rules once you know what they are. Particularly true, I guess, if you made them up in the first place.
This coming season, it's all about shape and detail.
Attention to the some of the key trends will keep you in step without being out of pocket
1) Trousers: From harem to dhoti, designers are obsessed by high, wide and handsome looks with an Eastern influence – Ralph Lauren, Yves Saint Laurent, Chloé, Sonia Rykiel and Margaret Howell all subscribed. Warehouse, Littlewoods Direct and Wallis are among the best for cheap-chic. Wear with wedges or stacked heels and small tops.
2) Fringing: Raf Simons at Jil Sander went full-length from shoulder to floor; Nicolas Ghesquière at Balenciaga trimmed his seams; Alexander McQueen, Hermès and Chanel fringed their hems; Keira Knightley just cut her hair in a fringe; and Madonna's grass-like Louis Vuitton was a fringe too far. Flick through the high street's fringe benefits in shoes, boots and bags.
3) Transparency: Now you see it, now you don't. Fendi, Jasper Conran, Jean Paul Gaultier, John Galliano and Christopher Kane all played the reveal-and-conceal game. Transparent hems, sleeves or over-layers are easiest to wear. Check out ruffled nude-look slip and Monsoon's shadow-dyed draped chiffon.
4) Colour and Print: Think clash of the contrasts, neon brights and digitalised patterns from cyberspace. John Galliano at Dior, Alber Elbaz at Lanvin, Gaultier and Kane all played up the brilliants; Josh Goot and Rodarte painted the colours of the rainbow. Look for Topshop's computer game-prints and metallic, jewel-bright leggings or opt for Marks & Spencer's lightning bolts of orange and pink.
5) Asymmetry: Michelle Obama jumped the queue with her one-shoulder Jason Wu inaugural ball gown. Gucci, Ashley Isham, Luella Bartley, Etro, Giorgio Armani, Carolina Herrera, Kenzo and Lanvin are among the designers making the cold shoulder hot again. Warehouse, Coast, Littlwoods Direct, River Island and New Look are all rocking the trend.
6) Going to Blazers: Borrow from the boys and buy into the blazer brigade. Stella McCartney's were loose and grandpa-sized; Marc by Marc Jacobs went with regatta stripes and Paul Smith played the old school card. Next, Dorothy Perkins, River Island and asos are all places to hunt down this wardrobe staple.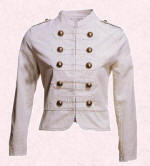 In the same way as Topshop has been a long term leader at creating hot off the catwalk inspired fashion, Primark has suddenly become great at copying designer catwalk looks.
Sales really made their mark when Vogue featured a snappy little neat cropped military jacket in the May issue.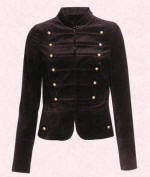 The jacket that cost £12 was featured amid designer items that looked rather similar, but at many multiples of the £12. Now its happening in a wide range of fashion magazines. Expensive sits next to inexpensive and is given equal cache.
Kim K rocked the heck out of this zebra print dress. I love the cutout sandals and blazers to complement. The clutch would have made a bigger impact if it was dark blue.
Christina Applegate looks lovely in her Reem Acra wrap dress. She let the dress take the spotlight by leaving the accessories to a serious minimal.
I'm loving Cassie's crop top. Cute color combination.
I've stalked a lot of these items below already online and in store, lol. I think trend could work well if you don't let the look be over the top and breaking up the monotony of the print. Take a look.
This exotic print is pulled together nicely with the wide belt at the waist.
Animal Lurex Ladderweave Scarf
As usual, I'll probably just scoop up a scarf with a fab animal print.
Animal Print Crop Cardigan
Cute addition to a little black dress or sexy red dress.
The cut of this jacket is so hot. It is very slimming and the leopard print is not overpowering.